We are hugely proud to be technology partners with Low6 in developing Ultimate Fan for the UEFA Euros. Ultimate Fan enables you to create and manage your own fantasy football squad with authenticated digital ownership football cards and live leaderboard scoring throughout the entire contest.
"A six-player, daily fantasy football roster, determined by player cards you open from a pack. It's an ultimate fan digital experience capturing the excitement of fantasy football with the thrill of "unboxing" player card packs, all combined with a sprinkle of 'getting lucky'." Jamie Mitchell, Co-Founder Low6
Video courtesy of Low6
Technology Partner
We have a well established relationship with Low6 as their technology partner. Low6, co-founded in 2017 by Jamie Mitchell and Wayne Stevenson, provides a platform for the sports industry to have their own fan engaging sports games and is rapidly growing by the day with hundreds of thousands of users.
Multiple Complexities
The concept of Ultimate Fan was first brought to us during a meeting regarding another Low6 project, literally just a few months prior to the Euros 2021. With adept and agile planning, the project took shape very quickly in the hands of our expert team and our design and development processes. Ultimate Fan posed multiple complexities for development and testing. The most notable challenge focussed upon the automated random generation (and testing) of the unique cards, pack drops, and live scoring.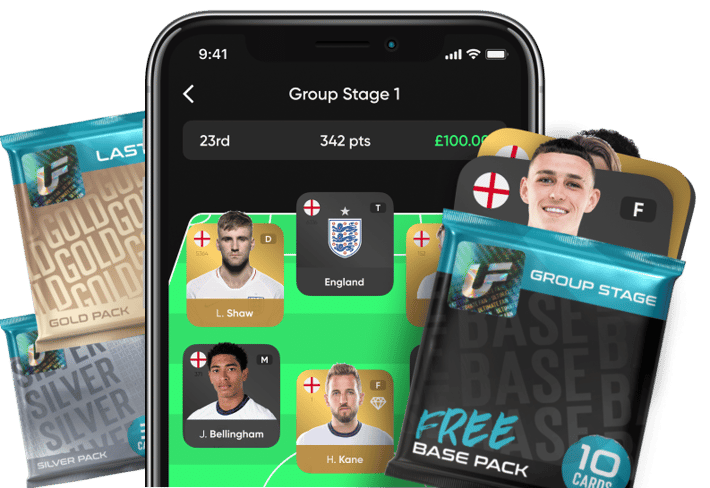 Our technical team divided the various elements into micro services and used Node and other applets to simulate inputs, validate outputs, and stress test the components. Breaking down the system in this way and 'bench' testing each individual service, eliminated nearly all errors before the components where put together into the fully functioning application.
"I am so proud of the Compsoft Creative team. The success of Ultimate Fan is testament to their impressive skills and vast knowledge, and understanding of mobile app design and development. It was really important that this solution was right the first time as there was no time to make revisions. The team's significant experience in identifying and resolving issues during the design phase and, following an optimised test driven development methodology, meant that the whole solution was delivered, bug-free, and ahead of schedule." Daniel Payne, Managing Director Compsoft Creative
NFTs
secured with blockchain technology
The cards are minted with a serial number and are equipped to work with cutting-edge NFT (Non Fungible Token) digital ownership certification secured with blockchain technology. The cards are expected to be highly prized within the thriving sports digital memorabilia marketplace. Low6 have plans to expand the Application as a trading platform for the cards and other sports digital memorabilia.
Ultimate Fan has already been downloaded by many Euros fans and has been widely celebrated by numerous sports industry leaders such as James Lawrence Allcott!
"Compsoft crushed the build! It's an amazing accomplishment in a tight window of time! Much appreciated!" Josh Turk, Chief Marketing Officer Low6
The App is available in the Apple App Store and the Google Play Store for you to play for free in the UK and RoI.
We are very proud of our work with cutting-edge technologies. We are always excited to work with teams who have a passion for quality and innovation.
The Compsoft Creative team would be delighted to work with you to help deliver premium, refined, and innovative solutions of the highest quality. If you have a project you are considering which requires a mobile app, IoT solution, contactless solutions, or interactive wearables, please get in touch!