App Store Optimisation (ASO) is a fundamental strategy your mobile app marketing. Synonymous to web SEO, an app needs to be optimised so that it ranks in the App Store's search results. This increases its visibility to potential customers, which translates to a higher level of traffic proceeding to view the app page and downloading - exactly what you want, no doubt!
You may have one of the most innovative and useful apps out there, but if it doesn't meet the store ranking criteria, it simply won't be discovered amongst the millions of others! With this in mind, let's go through the chief ASO factors that'll help move you from hide-and-seek to standing in the App Store spotlight:
optimising your app's title on the app store
Crucial to your app marketing strategy is deciding upon - and working around - an app name. As this is the first thing your audience will see (along with your icon), this piece of metadata is fundamental in attracting taps.
The title needs to be keyword-orientated and descriptive to reflect its function and relevance to the app store search – a significant optimising factor for ranking. The title should also be short - 25 characters or less, in fact. This will prevent side-ellipses that cut off your app's name, as exhibited here:

Carefully consider your word choice here too. It should clearly summarise what your app is about, align with what your target audience is searching for, and simultaneously entice taps.
App store Logo guidelines
Designing a logo may be a difficult and lengthy process, but your app will reap the rewards if it's done well. After all, your icon should be iconic.
A great example of someone who dared to be different is Snapchat. Their logo, named 'Ghostface Chillah' (ten points if you can tell us what that's named after!) is not only original and unusual, but it sells us the function of the app and ideology of the brand; fun and fleeting.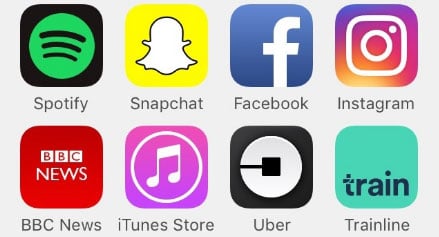 To fully optimise your app logo it needs to be both eye-catching and demonstrative of what your app is all about. You also want it to become recognisable with time. Think Twitter, YouTube, Spotify...we bet you could pick those out instantly placed amongst millions!
Here are a few things to consider in your icon:
Avoid using words - you have your title for that!

Choose vibrant colours to stand out next to other apps and against a mobile background image

Keep to the required store dimensions (e.g. 1024 x 1024 pixels in Apple store)

Make sure your design is distinct from your competitors – nobody likes a copycat!

Keep it simple – the icon is small so don't overcomplicate it. The best icons focus on one concept or element, such as a single letter, rather than making the audience squint to see details

If you've narrowed your app down to a few designs, try performing some first impression A/B testing with tools such as

UsabilityHub's Five Second Test.
Find out what else you can do to get your app downloaded beyond App Store optimisation in our free post mobile app launch checklist.
how to choose app store keywords
As mentioned previously, keywords are an intrinsic player in your optimisation, especially considering 63% of apps are found through searching in the app store.
In order to define a good keyword, there are three elements to consider: relevance, competition and search volume. You also need to consider the differences in the keyword ranking algorithms for Google Play and the Apple App Store. For instance, keyword stuffing in the description (repeating a targeted keyword up to 5 times) is highly sanctioned in Google Play, whereas Apple takes them from the title and keywords.
Other keyword tips for ASO include:
If a keyword is difficult to rank for, try to come up with different synonyms with a high search volume, but less competition

Trial some app optimisation tools that specialise in finding the right keywords for your list or name e.g.

AppTweak

or

SensorTower
For more advice on how to build the best app for your business, download our FREE guide!
Screenshots and Visuals for the app store
If you've got something to boast about, then go ahead! Potential customers enjoy being able to visualise the app before they download, so give them a sneak peak of your work with screenshots, images and videos. Although this won't improve your app's search rankings, it'll be sure to drive downloads.
Given that only your first 2-3 screenshots will show in the gallery, take special care in deciding those that best reflect the app experience and pivotal features. Also experiment with different designs, text overlays with some A/B testing.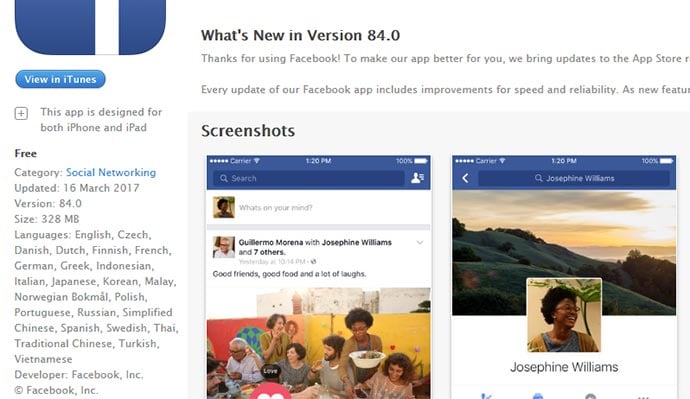 how to gets ratings and feedback on the app store
Ultimately, the best App Store Optimisation strategy is one you can encourage but can't control; a constant flow of positive reviews. Apps with the highest volume of these clearly dominate the app store, and understandably so, as reviews are the best way to validate your app's quality.
However, only a vocal minority – typically those who either love or hate your app – will voluntarily produce feedback. This only gives a myopic view of customer satisfaction, with the real majority lying in the median, so it's important to prompt these customers with extra engagement for a response, like in app pop-ups. Try to build some logic around in app pop-ups. These can appear at a point where you've really impressed your user with a cool feature or when the user is back in the app for the 7th time. This gives you the best opportunity to catch them in a generous moment. Just be careful not to over-do it!
Keep an eye on your mobile app's competitors
Lastly, keep a close eye on your competitors. The ASO race is a long one, and you don't want to fall behind. Continually ask yourself where and when you can improve or update, what you should avoid and why others are succeeding. By analysing their strengths and weaknesses, it will continually inspire you to advance your design and app-optimising marketing strategy.
Following these should help you climb up the rankings of the App Store. Let us know how you get on over on our Twitter!