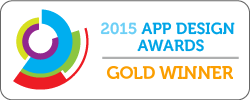 No fewer than four apps designed and developed by Compsoft were voted best in their respective categories at the recent US App Design Awards and Asia App Design Awards - while Compsoft operates solely from the UK, the awards recognize apps that are marketed in each territory.
Winners of the Gold award were:
Everyday Golf Coach (US: Home and Living)
Formworks (US: Business Platforms)
MyOngaku (US: Family)
Pixwup (Asia: Best App Startup)
Other award winners included the likes of Google, Nike, American Express, Audi, Capital One and Paypal. A fifth Compsoft app, Displaydata Dynamic Central, was voted a Silver Winner in the Business Operations Category of the US awards.
"To receive four Golds and a Silver from just five entrants has surpassed even our expectations", said Mike Massey, Managing Director of Compsoft. "While we're very much a UK company, our customers operate globally. To compete and win against some of the world's biggest brands is testament both to the great work of the Compsoft team and to the truly exceptional collaborative relationships we have with our customers."
Compsoft was voted Best Studio at the 2014 UK App Design Awards, and has eight apps shortlisted for the 2015 UK Awards, to be announced on 4th December.