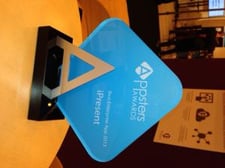 iPresent was awarded Best Enterprise App at the 2013 Appsters Awards, announced last night at the Kensington Roof Gardens.
iPresent is the industry leading solution for tablet based presentation of sales and marketing collateral. iPresent consists of native tablet apps for iPad, Android and Windows 8, and a web-based Content Management System (CMS) for adding, updating, and branding content.
Compsoft began developing iPresent in 2011, and launched version 1.0 in January 2012. Due to exceptional uptake in its first year, iPresent Ltd became a separate company in February 2013, however Compsoft continues to provide additional development resource to augment iPresent's technical team, as well as acting as iPresent's distribution partner in EMEA.
"We're absolutely thrilled to receive this award", said Phil Lenton, CEO of iPresent. "This is another acknowledgement of a great product, and of all the hard work done by the Compsoft and iPresent team over the last two and a half years."
iPresent is used by both large enterprises and SMEs around the world, and was also voted Best Tablet App at the Mobile Marketing Awards 2012. Click here to find out more about iPresent.