A team headed by Ben Chapman, Compsoft's Development Team Leader, recently travelled to San Francisco for Apple's Worldwide Developer Conference (WWDC).
Compsoft prides itself on being at the cutting edge of mobile app development, an important part of which is keeping abreast of the latest advancements in mobile technology. WWDC is the world's most sought after developer conference, with tickets this year selling out in just 71 seconds!
Apple's CEO, Tim Cook delivered the keynote speech, and announced a number of milestones including the App Store's 50 billionth app download. In addition to hearing the Apple announcements first hand, Compsoft's developers had the chance to attend demonstrations of Apples new technologies, and the tools and techniques that developers can use to build great apps. The conference also provided labs where developers could spend time with Apple experts discussing new technologies or issues on a one-to-one basis.
One of the key announcements at this year's WWDC was the launch of iOS7. iOS7 is due for release in the Autumn of 2013, and represents a substantial change from iOS6, Apple's current mobile operating system. iOS7 contains many new features, such as:
- The new design and interface offers improvements to make it even simpler, more useful, and more enjoyable. iOS7 focuses on clarity, depth and deference (an interface that helps users understand and interact with the content, but never competes with it) .
- Typography. For clarity, Apple has made improvements to typography, and has simplified its interfaces. For depth, layers are used to give a sense of dimension, hierarchy and order.
- A move from away from "direct metaphors". Apple has long been known for using "direct metaphors" within its software, such as lined paper within the Notes app or the wood effect on the Compass. However now iPhone and iPad users are used to the functionality these kind of effects are to be replaced with more modern and digital design, the advantage being a less restrictive and more spacious interface for additional functionality.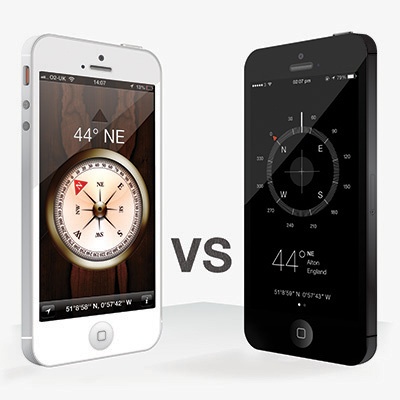 - Expanded toolkit. In addition to the design improvements, with iOS7 developers will have access to a powerful new physics engine, tools for smarter multitasking and other enhanced functionality. With the physics engine, it will be possible to create more engaging interfaces, animations and transitions. The improvements in multitasking will enable app data to be kept up-to-date more reliably and efficiently.
Have a look at iOS7 yourself at http://www.apple.com/ios/ios7.
If you are interested in finding out about Compsoft's app development expertise, whether for iPhones, iPads or other platforms, please call on 08453 70 72 74 or contact us via email.