Optimus TopApps, an HTML5 app for Orange, is launched in Portugal.
Working with Orange, a France Telecom business and The Filter, an agency that delivers tools for providing relevant content, Compsoft has designed and developed Optimus TopApps for the Orange Portuguese subsidiary Optimus.
Optimus TopApps is a stunning new service that has been designed to help users discover apps based on their preferences, peer recommendations and The Filter's proprietary relevancy engine. Currently being trialled by Optimus, users can create a 'Playlist' of apps - apps that the user likes, uses often and wishes to share with the TopApps community. These Playlists can be viewed by other users and, when the user looks at a recommended app, they are able to get live information from the app store about the app including ratings and reviews and have the option to download it. As a provider of a recommendations engine, The Filter provides users with categorised recommendations based on its analysis of the user's behaviour and use of apps.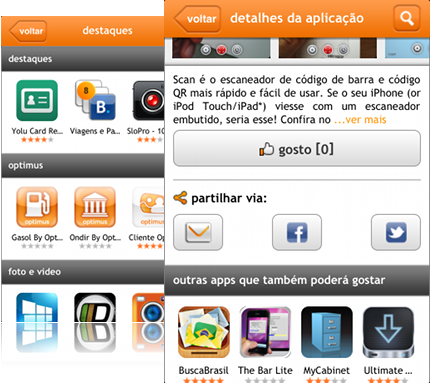 To achieve the greatest reach, Compsoft recommended an HTML5 solution. From an iPhone, users are able to open the web app and, once they have begun using the Optimus TopApps tool, are provided with recommendations. However, for the Android version, users can download the app for use. This has the additional benefit of being able to review the apps already in use, enabling The Filter's recommendations engine to make more appropriate recommendations.
If you are interested in finding out about Compsoft's app development expertise, whether for use on iPhones, Android devices or multiple platforms, please call on 08453 70 72 74 or contact us via email.