Compsoft's recently launched Dr Hilary Jones Pregnancy App is featured as New & Noteworthy on the App Store.
Compsoft has worked in partnership with TV's Dr Hilary Jones to produce his Pregnancy app for use on iPhones and iPads that provide his professional expertise and personal experience.
Dr Hilary is a practising GP who has appeared on British television and in other media for more than 21 years. He has helped deliver many babies over the years, and seen them grow into healthy happy kids. He also has five children of his own, and has been through all the trials, tribulations, excitement – and worries - that expecting a baby entails.
Through the app Dr Hilary guides expectant parents through from conception to delivery proving insights to what goes on and giving advise to help mums and dads best prepare for childbirth.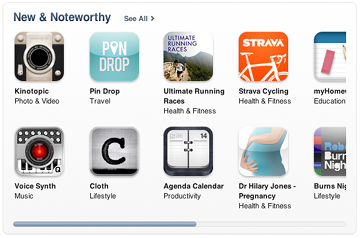 As a leading developer of mobile solutions, especially those for use on iOS devices, Compsoft is delighted with this app and its position on the App Store's front page as New and Noteworthy. This joins the list of other Compsoft's apps that have also been promoted by Apple that includes Hotels.com HD, Everyday Golf Coach and iPredict.

If you would Compsoft to get involved with your app development project, please contact us.