Having taken an innovative approach to development, iBiker, an app supporting the biker community - for bikers, by bikers, has been released by Compsoft on both the Android and iPhone platforms.
The app, part-funded by the Department for Transport, has been created by Redefine Convention Ltd and Compsoft using social networks to help identify the functionality that targeted users want from such an app. The iBiker Facebook page has 460 'likes' with many users engaging with the page managers to feedback thoughts and suggestions on the app. This has helped reinforce the app as being for bikers, by bikers.
Bluesulphur's user experience experts have been integral to delivering navigation-led design that engages users and keeps the look and feel similar for both Android users and those with iPhones. The development has been undertaken by Compsoft's in-house teams following extensive cooperation between the iBiker owner, potential users of the apps and our own mobile consultants that have proven experience in creating successful apps and, for some, a keen interest in bikes.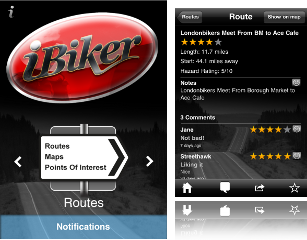 The apps, including videos featuring James Toseland, are live and can be downloaded from the Android Marketplace and, for the iPhone, the App Store.
Testament to its quality, the reviews are already praising the app: "Initial impressions are that this is a brilliant app." says Smithy7uk; "videos are excellent" says JimBob M21; and "Stunning" says Mav Maverick13. With 12 ratings the app has been graded four and a half stars.
May Update: The iBiker app is featured in a BBC news article.
Compsoft has achieved a reputation as one of the UK's leading mobile app development specialists, delivering well designed apps that look great and rely on quality functionality. If you are looking to get your business mobile, creating a mobile app for use on iPhones, Android devices or any of the leading platforms.