Compsoft has released the latest version of the npower Android app in response to feedback npower received from its users with this version being significantly more efficient than before.
The original launch one year ago saw the joint release of the iPhone and Android apps where npower required both versions to have similar functionality, including the Orb Power game, videos, directory of valuable contact numbers and the meter submission tool. While the iPhone is able to cope with the large file size of the app, the Android version, because of the limitations imposed by the device and the platform, was regarded to be too large.
Having delivered a considerable number of Android apps, Compsoft provided consultancy on the best means to streamline the app to meet the expectations of npower without compromising the user experience. The need was straight forward: reduce the file size from 9 megabytes to something more manageable. Taking a fresh look at the app, Compsoft redesigned the app, removing a number of the elements that had previously taken up space - the carousel, the videos and even the game.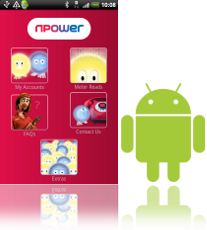 Click to view the app in the Android Marketplace.
The result is an app that is less than one megabyte in size but with all the essential functions that customers require. Although only live a few days, it has received glowing feedback recognising the improvements: Matt says "Much better now it is a sensible size", 5 stars; Richh (sic) says "excellent", 4 stars and Dan says "I love this app! Makes one of those boring little chores that little bit easier", 5 stars.
If your business is looking to promote itself using an Android app, or an app on any mobile device, please contact us for a no obligation chat about what can be achieved on 08453 70 72 74.