Compsoft's latest iPhone app development is available in Apple's App Store.
APRIL UPDATE: Apple features iPredict in 'New and Noteworthy' in its sports section.
Software Developer Brian Morais came to Compsoft with his expertise in statistical analysis to create a fun football-related iPhone app. The concept of the app is to challenge users to guess the results of any number of football matches, with the app using Brian's statistical analysis in the background to scientifically predict the game's result.
The app lists football teams from the English and Scottish leagues and their upcoming fixtures. On viewing the matches, users can enter their own predictions for their outcome pitting their wits against the statistical prediction engine behind the app. Able to link to the results of football matches, the app tracks the user's prediction success and compares it to the app's success with a rating that can be posted to social networks.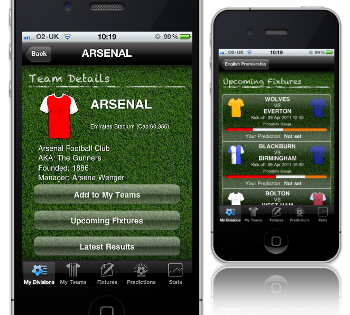 Compsoft developed the app at its location in Alton, Hampshire, providing expertise in user experience, interface design, application development and testing, integrating the app with Brian's self-developed back-end prediction engine via web services. On completing the app, Compsoft has positioned the app on the App Store for download.

The app can be bought from the App Store; please click on the link to view the app's details in your browser.