Compsoft has been demonstrating its app development capabilities at the prestigious Mobile World Congress (MWC) in Barcelona, Spain this week.
MWC is the biggest event in the year for the Mobile Industry, and in 2011 it attracted over 50,000 delegates from over 200 different countries. There were also over 1,400 exhibitors in 8 different exhibitor halls. Keynote speakers included the CEOs of Google, Microsoft, Intel, AT&T, Nokia and many more top global companies.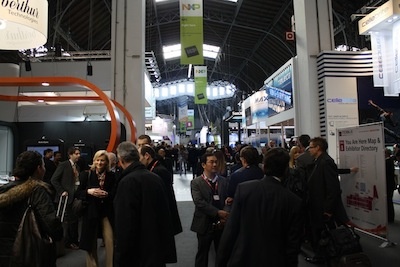 Compsoft decided to exhibit at MWC for the first time due to the large number of different apps it has been developing on a wide range of mobile devices since 2009. A team from Compsoft spent four full days demonstrating custom-developed apps on iPads, iPhones, Android phones, Android tablets, Blackberries, Windows Phone 7 and HP/Palm devices. Paul Cranston, Compsoft's Head of Marketing, commented "This has been a fantastic exhibition for us; we've been able to talk to an impressive number of senior decision makers about enhancing their businesses through the use of mobile apps".
For further information about MWC 2011, see the event's highlights here.