Compsoft has simultaneously developed iPhone and Android applications for national energy supplier npower, now available on Apple's App Store and Google's Android Market.
Wanting to deliver innovative applications that also provided a superior customer experience compared to other applications, npower partnered with Compsoft to create applications that have appeal to both new and existing customers across both iPhone and Android mobiles.
While the apps' primary functions are to add an account and then submit meter readings, npower wanted to capitalise on the use of smartphone technology to enhance customer engagement with the brand, so provided a host of useful phone numbers listed by function. There are also Frequently Asked Questions separated into an easily navigable menu.
What has set the npower applications apart from other utility applications is the style, usability and the 'Extras' that have been included. npower has released three TV commercials on the app, including one that has recently aired on British television. There is also 'Orb Power', an addictive game that lets users post their high scores to social networking sites Facebook and Twitter.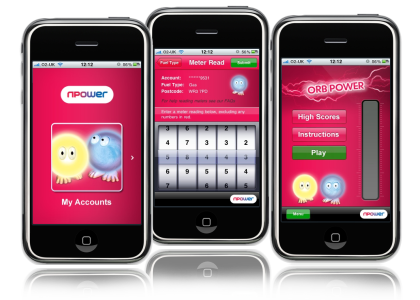 You can find out more about the npower applications from the npower website or even download the iPhone app by clicking the App Store icon which takes you through to the iTunes website.

If you are interested in using smartphones to better engage your staff and customers with your business, please on 08453 70 72 74.